Water testing made easy. FREE Seminar & Workshop, Bristol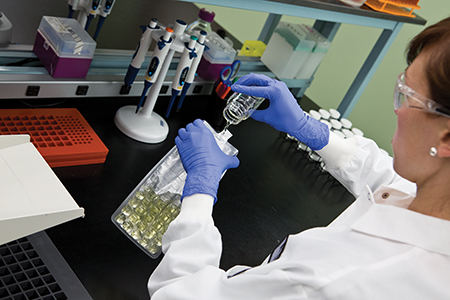 Take control of waterborne bacteria in your hospital.
IDEXX, world leaders in water microbiology, are running a free seminar and workshop on 31st March featuring expert speakers. Focussed on improving water hygiene in hospitals, the seminar topics will include rapid methods available, water safety plans, current courses and training available, real life hospital experiences plus the advantages of adopting on-site water testing.
The seminar will open with a live demonstration of how on-site water testing can be conducted.
Dr Paul McDermott of PJM-HS Consulting will then lead a session about real-life experiences and the value of in-house testing. Topics covered will include why sample and test, what problems may be encountered, how to test effectively and the potential benefits and drawbacks of in-house testing.
Independent consultant Dr Susanne Lee of Leegionella Ltd., will talk about what makes a water safety plan fit for purpose. This includes a review of waterborne pathogens of concern to augmented care patients, Pseudomonas aeruginosa risk assessments – what should be assessed and who should do it - and the case for more frequent sampling in augmented care.
The seminar presentations conclude with a hospital case study - a real-life example of the improvements in water safety achieved as a result of on-site testing that is already taking place in the heath sector.
Places at the event are open to anyone actively concerned with water safety in a healthcare facility and the content qualifies for CPD points. The seminar is free to attend and places can be booked by contacting Stephen Page at IDEXX Water ([email protected])
Seminar speakers
Dr Paul McDermott
Paul has spent his career in microbiology including research, lecturing and as a regulator where he developed a deep understanding of both the regulatory framework and the practicalities of effective management of water-associated infection risks.
Since setting up his biorisk consultancy, Paul has undertaken a variety of work including the role of Authorising Engineer (Water) at a number of NHS Trusts and is currently supporting water risk management arrangements at a number of large academic institutions.
Dr Susanne Lee
Susanne is a State Registered Clinical Scientist (Public Health Microbiologist) with over 45 years' experience in clinical and public health microbiology. She is a former Director of the HPA (now Public Health England) London Food Water and Environmental Microbiology Laboratory and now Director and Co-owner of Leegionella Ltd.
This independent public health consultancy is recognized internationally and nationally for both training and its expertise in the detection of waterborne pathogens and prevention of waterborne disease by the development and implementation of water safety plans, especially in healthcare and the travel industry.
Seminar details
Date: Tuesday 31st March
Venue: Doubletree by Hilton
Bristol City Centre
Redcliffe Way
Bristol, BS1 6NJ
Places can be booked by contacting Stephen Page at IDEXX Water:
E: [email protected]
T: 01638 676836
M: 07771 643157
See more about IDEXX Technologies Limited
Other News