Spinal and orthopaedic surgery best outcomes aided by Ziehm 3D mobile C-arm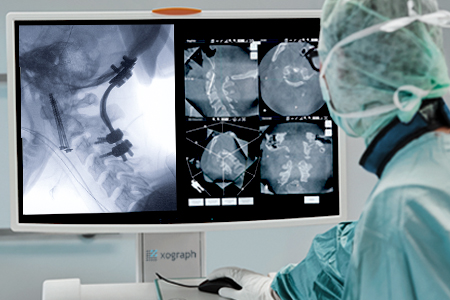 Xograph Healthcare, part of the Healthcare 21 Group and a leading independent X-ray imaging provider in the UK and Ireland, is now offering the latest version of German mobile surgical C-arm manufacturer Ziehm Imaging's Vision RFD 3D device.
The rapid pace in uptake of 3D mobile C-arms for advanced X-ray image guidance in spine and orthopaedic trauma surgery, replacing traditional 2D mobile C-arms, is not surprising as the degree of confidence and accuracy in implant placement that these devices enable, especially when coupled with a surgical navigation or robot assisted surgery system, clearly justifies the investment. A post-operative CT scan can be eliminated, and the possibility of revision surgery reduced with the associated reduction in costs. Combine this with improved outcomes for the patient and you have a win-win situation.
A mobile surgical C-arm produces live, dynamic X-ray images displayed on a monitor which helps guide a surgeon to place tools and implants correctly during surgical interventions. Although image quality has improved over the years and viewing images in 2 dimensions has served its purpose, the ability to view an implant truly accurately in complex surgery has been limited. Radiation dose to the patient and surgical team is also a consideration not to be taken lightly, particularly in longer procedures.
The Ziehm Vision RFD 3D is the newest addition to a large family of Ziehm mobile C-arms and is no larger than a conventional model, important in the confines of the operating room where new technologies makes ever increasing demands on limited space. The Ziehm Vision RFD 3D incorporates a flat panel image sensor or 'detector' in place of the traditional image intensifier, the latter of which has been with us since the 1950's. The resulting image is square rather than the more familiar circular picture associated with intraoperative image guided fluoroscopy. The Complementary Metal Oxide Semiconductor (CMOS) technology used in the Ziehm Vision RFD 3D's flat panel detector not only produces very high resolution images, free from the naturally occurring distortion associated with the image intensifier, but it also allows a reduction in the amount of radiation required to produce those images and is significantly lower than a typical CT scan of the same anatomical region. The information provided is however similar to that presented by a CT scanner with display of the anatomy in 3 planes simultaneously: axial, sagittal and coronal, as well as a 3D volume reconstruction. The image volume can be interrogated by viewing through the layers of the 3 planes with each slice thickness as small as 0.195 mm. The result is total confidence that an implant has been placed accurately and without compromising adjacent structures.
The output from the Ziehm Vision RFD 3D can be passed to a complementary system such as a robotic assistant or surgical navigation system and compatibility has been certified with most popular devices. In addition to spinal and orthopaedic surgery, other applications include neurosurgery, cochlear implant, maxillofacial reconstruction and brachytherapy seed placement.
For more information on the Ziehm Vision RFD 3D, please visit https://www.xograph.com/mobile-c-arm-rfd-3d/ or email [email protected]
See more about Xograph Healthcare Ltd
Other News