Widest Range Of Surgical Suctions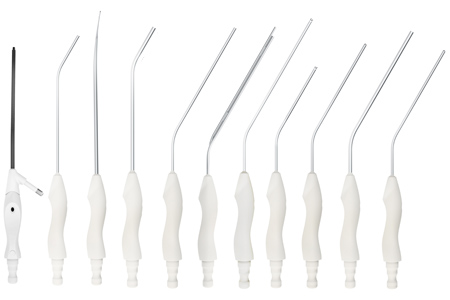 Single Use Surgical, an innovative UK manufacturer of specialist single-use instruments will be returning to exhibit at Arab Health 2020. Their product portfolio boasts one of the widest ranges of premium grade suction devices that are guaranteed sterile to reduce the risk of cross-contamination.
For almost 20 years the company has supplied clinicians with a range of instruments that suit almost any type of procedure. By providing high quality single-use alternatives to reusable instruments that are difficult to clean and inspect, provides hospitals with opportunity to reduce the risk of infection and cross patient contamination.
Explore The 'Professional' Range
Popular choices include the Zoellner, Frazier, Magill and Mastoid suctions that are now exclusively available with lumen sizes 5fg, 7fg, 8fg and 10fg. These perfectly complement the classic lumen sizes of 6fg, 9fg, 12fg and 15fg and are widely used in oral, maxillofacial, nasal and plastic surgery. The company continues to engage with healthcare professionals to develop new products that continue to meet the needs of the industry.
Quality Without Compromise
Each instrument has been designed to capture the same look, feel and functionality of their reusable equivalent. Engineered to prevent blocking and ensure reliability throughout the entire procedure. A unique handle design provides optimum ergonomics with slim, smooth contours for comfort and improved visibility. The suction control hole allows fine manipulation of suction with minimal noise. Products are certified to ISO 13485, Directive 93/42/EEC and FDA approved.
Become A Distributor
Single Use Surgical continues to grow in international markets with partners throughout EMEA and the USA. As an established manufacturer of medical devices, they ensure exceptional customer service and supply chain reliability. Visit the team at the Welsh Government stand situated in Hall 2, stand number is H2.H50 for enquiries about joining our international network of partners.
Contact: [email protected]
Find out more: www.susl.co.uk
See more about Single Use Surgical
Other News