Hull hospitals invest in new environmental monitoring systems for operating theatres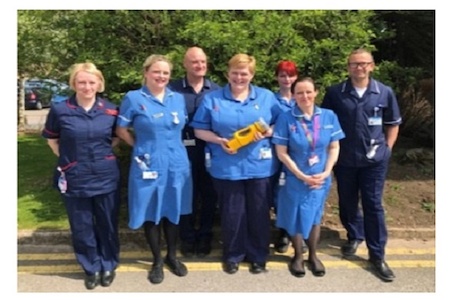 Hospital theatres in the Hull area are tackling the risk of surgical site infection with the use of specialist air sampling technology from Cherwell Laboratories.
The Hull University Teaching NHS Trust has purchased three SAS Super 180 air samplers for the environmental monitoring of the Trust's operating theatres in Castle Hill Hospital and Hull Royal Infirmary.
Hull University Teaching Hospital NHS Trust had two ageing pieces of air sampling equipment for microbiological monitoring for surgical site infection prevention. When one broke beyond repair, the remaining large, cumbersome instrument, which was trolley-based and required an external electricity supply, proved inefficient at covering multiple theatres across the NHS Trust's sites. Therefore, a business case was put forward by Greta Johnson (lead nurse, Department of Infection) reviewing if air sampling should continue, as there is in fact no regulatory requirement for plenum ventilated theatres. If they did continue, new equipment was required. It was concluded that air sampling was important and funds for new air samplers were made available.
The infection control team, investigated a number of different companies and air samplers.
"We chose Cherwell's SAS sampler as it is compact, easy-to-use, simple to maintain and fit for purpose in sampling theatre environments," said Greta Johnson. "Cherwell was also able to provide training and comprehensive servicing."
The small size and simplicity of the SAS samplers have resulted in improvements in the sampling processes and enhanced environmental monitoring practices at the NHS Trust. The old sampling device, was very dated, trolley-based and required an extension cable. It was also proving hard to clean the multiple components, cumbersome to position and generally difficult to use.
The training programme given by Cherwell to the Trust's infection control team covered three areas of the SAS sampler, the cleanliness and sterilisation of the instrument, sampling and maintenance; demonstrating its overall convenience.
Cleaning of the device is extremely simple; alcohol spray or impregnated wipes can be used to disinfect the surface of the air sampler. The drilled sampling head can be readily checked, wiped clean or autoclaved. With the media plate placement area underneath the head, the instrument can be turned on to simply draw a mist of disinfecting alcohol spray through the device. Furthermore, as the sampler is designed for cleanroom purposes, it can also be sterilised using vaporised hydrogen peroxide.
Another benefit observed by the infection control team is its ease of maintenance. Previously, the team had to calibrate the old system themselves. However, with the SAS range, calibration is carried out by Cherwell Laboratories' engineers; either at the company's engineering department in Bicester, or on-site at a customer's own facilities.
Other News